If you're looking for a garage roof replacement in Glasgow or anywhere in Scotland we can handle the job. We offer a prompt, reliable and professional service. The whole process to replace your garage roof takes only 1 day. We use plastisol coated steel which comes in a choice of colours. We pride ourselves in workmanship and offer a 20 year guarantee on our work.
The Garage Roof replacement process is below:
Strip off existing fascia boards

Install new 3" x 2" straps on top of existing roof

Install new made to measure plastisol sheets

Install new made to measure plastisol fascia flashings

Install new white UPVC fascia board

Install new gutter and downpipe

Install corner flashings

Clear Site, take all debris away and dispose of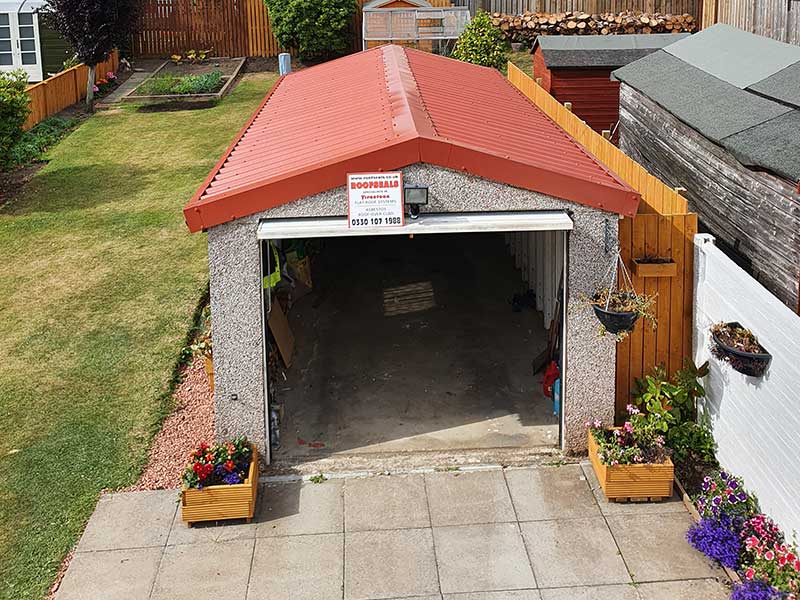 Asbestos Garage Roofs
If you have an asbestos garage roof in Glasgow or in Scotland, Roofseal Glasgow can help repair it.
Is your garage roof damaged, cracked, leaking or damp and mouldy? Over time corrugated asbestos sheet garage roofs can become damaged by rain, low temperatures, accidental damage or even moss - this means it is no longer watertight and additional damage can occur.
You can have the asbestos roof removed and replaced but this needs to be done by a licensed asbestos removal company which is normally very costly.
The good news is that the roof is normally very safe and you just need to recover it. If your asbestos garage roof if leaking or it need sealing we can transform it using plastisol coated corrugated steel roof sheets. They come in a range of colours to suit your house colour, garage door colour or scenery around the garage. There is also a huge 20 year guarantee on the roofing sheets.
Contact Us